Essays
Sabine Piccard (Pristina, Kosovo)Course: Gender, Sexuality and Violent Conflict Masculinities and Gender-Based Violence in Conflict and Post-Conflict Settings – Addressing the Gap in Violence Against Men 1. Introduction The concept of Gender-Based Violence (GBV) generally...
Read more
Zbornik radova "Lice i naličje socijalne pravde u BiH"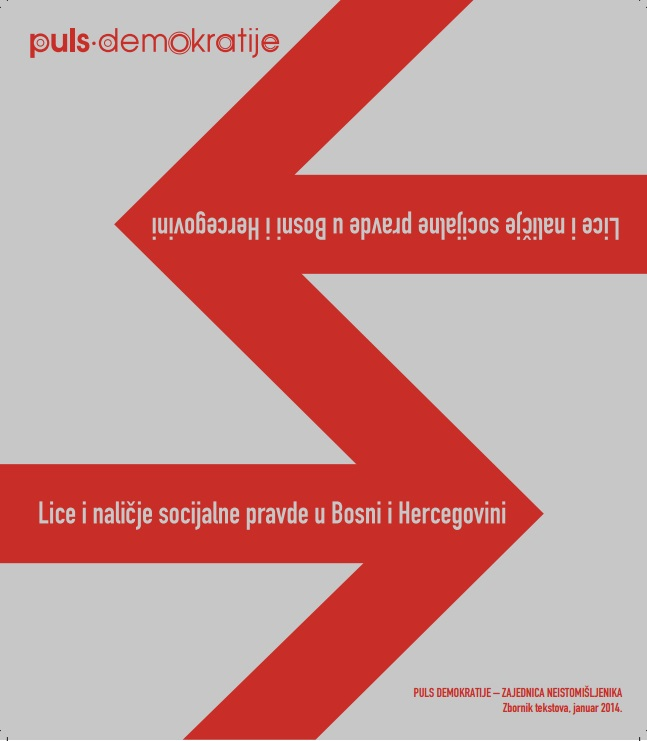 Puls demokratije je u suradnji sa Fondacijom Mirovna akademija i Fondom Otvoreno društvo izdao zbornik pod nazivom "Lice i naličje socijalne pravde u BiH" čiji su autori/ce bivši polaznici i polaznice Post-jugoslavenske mirovne akademije i suradnici/e Pulsa demokratije.
Tribina na kojoj će diskutovati autori i autorice zbornika te njihovi gosti će se održati u četvrtak, 30. januara 2014. u 16h u Kriterionu (Obala Kulina bana 2) u Sarajevu. Pozivamo vas na zajedničko promišljanje i razgovor o pitanjima socijalne (ne)pravde u BiH.
Rad na zborniku je počeo u junu prošle godine s namjerom da pokrene diskusiju u javnosti Bosne i Hercegovine o socijalnoj pravdi kao uzdrmanom, i istovremeno, zanemarenom temelju društveno-političkog poretka. Rezultat rada mladih bh autora je zbornik artikuliranih promišljanja o tome kako su nestala mjesta otpora u BiH? Može li biti pravednijih rješenja u nepravednom sistemu? Šta je tranziciona pravda bez socijalne? Te se pitaju da li u toj suigeneričnoj stvarnosti u krhotinama, može biti socijalne pravde i je li nam ostalo snage za skok u povjerenje u kojem bismo opet mogli izmisliti solidarnost?
Radove autora možete pročitati u pdf-izdanju zbornika radova "Lice i naličje socijalne pravde u BiH" ovdje.
Zbornik radova Lice i naličje socijalne pravde u BiH realizovan je u sklopu projekta Puls demokratije, Fonda Otvoreno društvo BiH, u saradnji s Fondacijom Mirovna akademija. Puls demokratije je internetski časopis za kritičko promišljanje društveno-političke zbilje u Bosni i Hercegovini koji postoji od 2006. godine. Zavljajujemo se Mennonite Central Committee koji je podržao rad Fondacije Mirovna akademija na ovom projektu.