Essays
Renata Ćuk (Zagreb, Croatia)Course: Gender, Sexuality and Violent Conflict: Beyond Oppositional Imagination Sexual Violence Against Men in Armed Conflicts Introduction Many people connect war time sexual violence to the images of the raped Bosnian...
Read more
Course: Memory and its role in conflict and conflict transformationLecturer: Orli Fridman Collective Memory of the Greek Civil War: The Case of the Refugee Children Course participant: Irena Avirovic, Skopje, Macedonia As a...
Read more
Promocija knjige
PROMOTION IN BANJA LUKA
Strategic Peacebuilding
"There where efforts for peacebuilding are coordinated, communicated and agreed upon, and where cooperation exists - there is peace."
Author: Maja Isović
Taken from Buka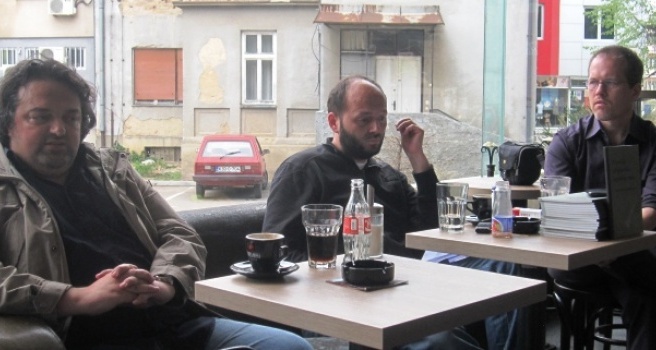 The "The Little Book of Strategic Peacebuilding – A Vision and Framework for Peace with Justice," written by Lisa Schirch, was promoted last weekend in Banja Luka in the cafe Cafe&Chillout within the National and University Library RS. The event was organized by the Peace Academy Foundation (PAF) from Sarajevo and the Center for Informative Decontamination of Youth from Banja Luka.
Amer Tikveša, Executive Director of PAF, Randall Puljek-Shank, a member of the PAF Board of Directors, and Aleksander Trifunović, Head Editor of Buka, talked about the publication about about the idea of peace, and agreed that the subject is very hard to define in the context of strategic peacebuilding.