Eseji
Na kakvim to mladima svijet ostaje? Autorica: Tanja Javorina, Hrvatska Kurs: Aktivističke prakse i novi društveni pokreti za socijalnu pravdu, 6. Postjugoslavenska mirovna akademija Jedno od neodgovorenih pitanja, odnosno onih za buduće rasprave, koje...
Opširnije
Novosti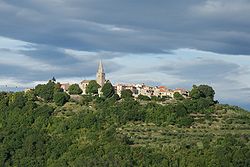 Miramida Center - Regional Exchange of Peace Experience is organizing the 6th consecutive retreat for activists from the Former Yugoslavia. The retreat will be held from 5-10 July 2012 in Grožnjan in Istria.
The deadline for applications is 14 June 2012.
More information about the retreat for activists, a detailed program and instructions about how to apply, follow this link.

The Center for Nonviolent Action, Sarajevo/Belgrade invites you to a Basic Peacebuilding Training that will take place from 6-16 July 2012 in Mavrov, Macedonia.
The application deadline is 17 June 2012.
You can find more information about this training and how to apply at this link.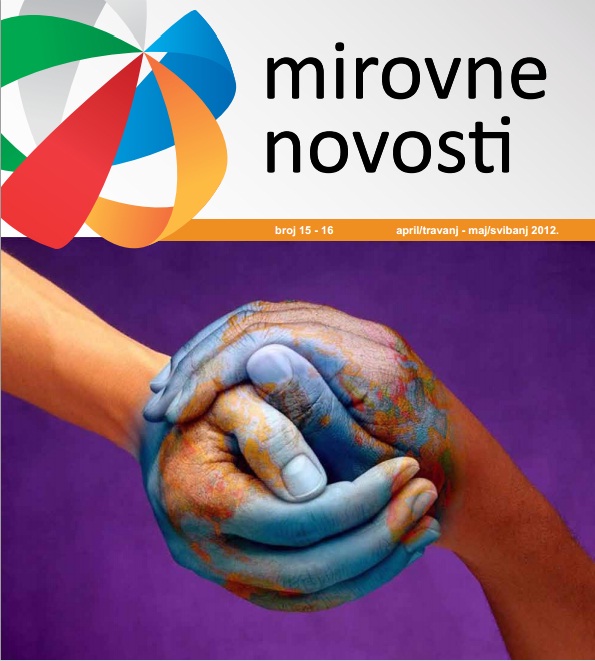 We'd like to announce the publishing of the latest edition of Peace News for April-May 2012. To download the PDF, follow this link. Enjoying the reading!.
In this edition:
- Strategy for establishing an encouraging environment for the development of sustainable civil society in BiH
- IPA programming and participation in civil society
- Establishment of a genocide video archive
- Invitation to this year's Post-Yugoslav Peace Academy
- Campaign for equality for all - a month of Roma women's activism
- and much more
Towards Open Regionalism in South East Europe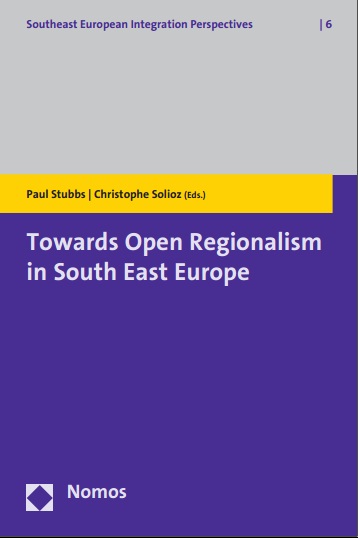 Edited by Paul Stubbs and Christophe Solioz (Baden-Baden: Nomos Verlagsgesellschaft | Southeast European Integration Perspectives, vol. 6, 2012), 225 pp.
Towards Open Regionalism in South East Europe presents a series of interlinked reflections on the possibilities and problems of emergent forms of regional cooperation in South East Europe (SEE). Taking diverse themes such as: the economy, crime, borders, culture, and civil society, authors explore some of the facets of "open regionalism", consisting of multi-actor, multi-level and multi-scalar processes producing a complex geometry of interlocking networks. The book situates "new regionalism" in SEE in the historical context of the legacies of Yugoslavia and the wars of the Yugoslav succession. Contemporary processes of Europeanisation in relation to SEE are also examined as complex, contingent and radically unfinished. The book seeks to move beyond the constraints of objectivist notions of regionalism as consisting of sets of relations between sovereign nation states, to address complex constructions of meaning and place.
More on www.ceis-eu.org
Promocija knjige
PROMOTION IN BANJA LUKA
Strategic Peacebuilding
"There where efforts for peacebuilding are coordinated, communicated and agreed upon, and where cooperation exists - there is peace."
Author: Maja Isović
Taken from Buka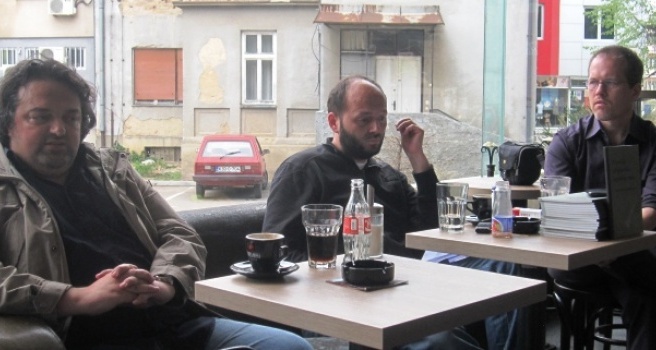 The "The Little Book of Strategic Peacebuilding – A Vision and Framework for Peace with Justice," written by Lisa Schirch, was promoted last weekend in Banja Luka in the cafe Cafe&Chillout within the National and University Library RS. The event was organized by the Peace Academy Foundation (PAF) from Sarajevo and the Center for Informative Decontamination of Youth from Banja Luka.
Amer Tikveša, Executive Director of PAF, Randall Puljek-Shank, a member of the PAF Board of Directors, and Aleksander Trifunović, Head Editor of Buka, talked about the publication about about the idea of peace, and agreed that the subject is very hard to define in the context of strategic peacebuilding.
Promocija
Poziv na promociju
Dragi/e,
Fondacija Mirovna akademija organizuje promocije knjige "Prirucnik za stratešku izgradnju mira" – Vizija i okvir za pravedan mir autorice Lisa Schirch. 
Prva promocija će se organizirati u Beogradu, u petak 23. marta, u 18 sati, u Centru za kulturnu dekontaminaciju (sala "Učitelji neznalice"), ul. Birčaninova 21, Beograd – Govore: Saša Ilić, KPZ Beton; Goran Lazin i Marijana Stojčić ispred Žena u crnom; Amer Tikveša, izvršni direktor FMA
Druga promocija će se organizirati u Zagrebu, u subotu 31. marta, u 18 sati, u Kući ljudskih prava, Selska cesta 112a, Zagreb – Govore: prof. Ana Matan, Fakultet političkih znanosti, Zagreb; Iva Zenzerović, Centar za mirovne studije; Tamara Šmidling, aktivistica i članica Upravnog odbora FMA; Amer Tikveša, izvršni direktor FMA
Treća promocija će se organizirati u Banja Luci, u subotu 7. aprila, u 18 sati, u kafeu Caffe & Chillout Narodne i univerzitetske biblioteke RS, Jevrejska 30, Banja Luka – Govore: Aleksandar Trifunović, Centar za informativnu dekontaminaciju mladih Buka, Banja Luka; Randall Puljek-Shank, član Upravnog odbora FMA; Amer Tikveša, izvršni direktor FMA

Radi se o svojevrsnom jubileju Post-jugoslavenske Mirovne akademije koja se svake godine organizira u Sarajevu te je tim povodom upriličeno i izdavanje gore spomenute knjige kojom se, između ostalog, želi najaviti pokretanje biblioteke PAX čiji je cilj na našem govornom području učiniti pristupačnijom problematiku u vezi s izgradnjom mira. Kako je realizator i Post-jugoslavenske Mirovne akademije i ovog izdavačkog poduhvata Fondacija Mirovna akademija, to je povod za predstavljanje njenog dosadašnjeg rada i budućih planova. 
Pozivamo Vas da svojim prisustvom uveličate ovaj događaj.
U slučaju pitanja, molimo da se javite na dolje navedene kontakt informacije: 
Emina Trumić, Koordinatorka Fondacije Mirovna akademija 
Email:
Ova e-mail adresa je zaštićena od spam robota, nije vidljiva ako ste isključili JavaScript
Tel./Fax: +387.33.651.560
Partneri na projektu: Žene u crnom, Beograd; Centar za mirovne studije, Zagreb; Centar za informativnu dekontaminaciju Buka, Banja Luka
Projekat podržao: Mennonite Central Committee
Obavijest - novembar 2011.

Upravni odbor Fondacije Mirovna akademija trenutno radi na strateškom planu za 2012.-2014. godine. Zahvaljujemo se svima koji su popunili upitnik o interesima za buduće kurseve i načinu na koji su stečena znanja i iskustva sa učešća na jednoj od Mirovnih akademija 2008.-2011. iskoristili.
Zadovoljstvo nam je obavijestiti vas da će jedan od kurseva 5. Post-jugoslavenske Mirovne akademije u 2012. godini biti "Strateška izgradnja mira" koji će voditi Dr. Jayne Docherty iz Centra za pravdu i izgradnju mira iz Virginia, SAD-a; kurs za koji ste u upitniku pokazali najveće interesovanje. Uskoro ćemo objaviti informacije i za ostala dva kursa, a poziv za aplikacije za 5. Post-jugoslavensku Mirovnu akademiju će biti objavljen krajem februara 2012. godine.
Uskoro vas očekuju nove informacije.
Peace Activism: Tamara Šmidling for Radiosarajevo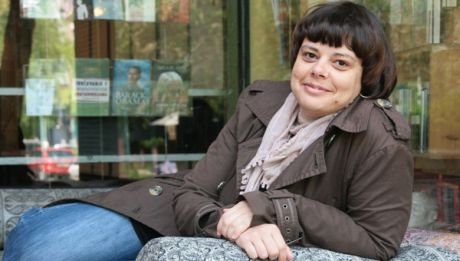 The Post-Yugoslav Peace Academy, which is a special educational program that strives for active peacebuilding and a culture of nonviolence, will this year take place for the fourth time. This year's program is intended primarily for activists from the fields of human rights and peacebuilding, students, researchers, theoreticians, and journalists who are engaged in peace work and are interested in themes that the Peace Academy offeres. The Fourth Peace Academy will take place in Sarajevo from 17-26 July. We talked with one of the founders of the Academy, Tamara Šmidling about the goals of the Peace Academy and this years courses and lecturers.
Radiosarajevo.ba: What ideas led you to forming the Peace Academy and have some of your expectations been fulfilled in the three years of the Peace Academy's existence?
Šmidling: Already in 2006, eight of us from four different peace organizations in Sarajevo came to the idea of forming the Peace Academy, based on the desire for including a program of peace eudation in our activities, different from normal trainings, seminars intended to develop various skills, learning about project writing, and other similar forms of edcution. We wanted something that would more deeply engage the problems that we encounter in our work: nationalism, prejudice, borders, opposing narratives, ideological misue of language and symbols..., that will at the same time be removed from academic elitism or the mere desire to fill one's CV. The guiding idea was for a program that would connect activism and the need for action with theoretical/critical questing of our presence and our work, a place for activism and theory to meet.
The Peace Academy was thought up as a type of summer school that would each year offer participants three courses with lecturers who are engaged in the previously mentioned problems. The first Peace Academy took place in 2008, and now we are preparing for the fourth. The courses' themes in the last three years have ranged from nationalism, ethnic identity, understanding of collective violence and crime that took place in this region, in the context of identies and their misuse, to collective memory, history of world peace movements and activism in the Former Yugoslavia.
Until last year, we worked as an informal group, but just in August, prompted by practical problems, we registered the Peace Academy Foundation.
Tamara, Radiosarajevo.ba
Picure: Nermin Čolić

Article Link: http://www.radiosarajevo.ba/novost/53816/mirovni-aktivizam-tamara-smidling-za-radiosarajevo